Determination, Discipline and Commitment sailed me through the torturous 53K SRT RUN
I have run many strenuous races but SRT (Singhgad, Rajgad & Torna) ULTRA RUN has been the toughest and the most adventurous. The total distance covered in the run was 53 Kms, but the height gain was 2320 Meters. I started the run on 11/12/2021 at 6:00 hrs and finished at 17:52 hrs. My Garmin watch displayed that I had taken 87,000 steps to complete this run.
The inclines and the declines in the terrain were frequent and breath taking. At many places, it was so steep that the help of ropes had to be taken. Thankfully, the organisers had provided them at all crucial junctures.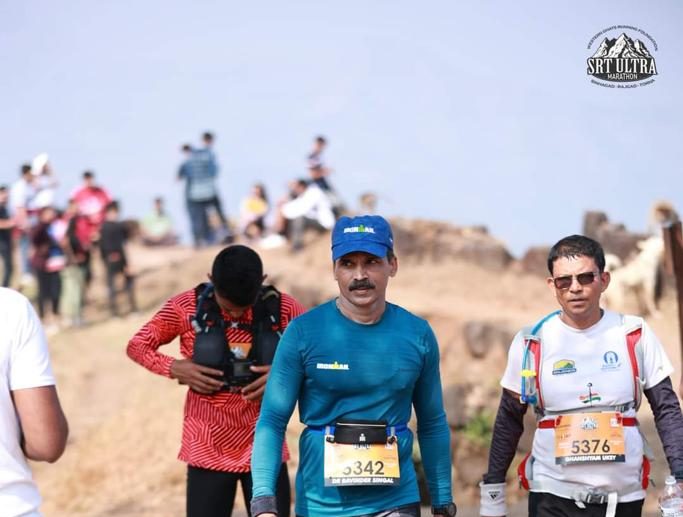 The temperature during the whole event varied between 21 degree Centigrade to 37 degrees Centigrade. This compelled me to have regular replenishment of liquids and solid supplements. Again, the organisers had taken care of this aspect too. During the run, I had committed the mistake of consuming excess salt due to which I had to vomit twice. This was a learning experience not to be repeated during future events. Of course, this had a detrimental effect on my overall performance! Will be more careful, next time J
Perhaps the best part of this run was transversing through Singhgad, Rajgarh and Torna forts. During the run, the sheer scale and size of the forts set me wondering as to how they were built when transportation and technology were primitive from present standards. The relics showed how strongly these forts were made, that they are still there is a testimony to this fact. I was happy to see this part of History
Overall, this was a great experience wherein a test of grit, patience and determination happened. On the way, I met a person who had completed almost 43 KMs but said he is quitting. I felt bad for him as he had only 10 KM's left. All ultra runs are full of adventures and difficulties and you have to be mentally strong to complete them within a stipulated time. Based on my experience, I can say, "RUN YOUR RACE." Compete with self and become a refined form of yourself. The only commitment required for such events is discipline. So be disciplined and achieve your goals.
Quitters Don't Win and Winners Don't Quit.
Ironman | Deccan Cliffhanger | Comrade Legend Finisher | Motivational Speaker | Writer | Endurance Athlete